01 Dec

Bi-Bag Online Shop reinvents itself

Bi-Bag Online Shop changes its graphic design and reinvents itself, just like its bags and its jewels, to improve the browsing experience and drive the users into the purchase process in a few simple steps!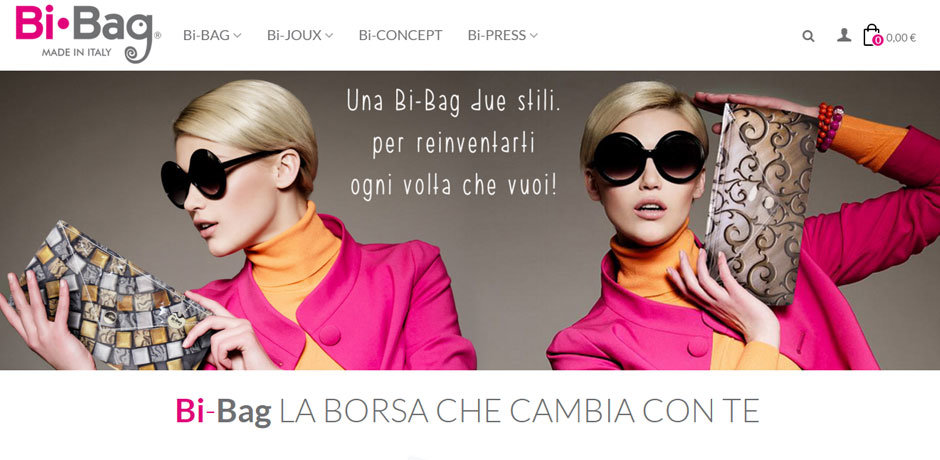 Innovation, personalization and quality are the main concepts that give rise to Bi-Bag collection. Elegant, versatile and unique bags as the women who choose them for their outfits.
The modular bags, made of hand-stitched soft transparent PVC, are available in four refined customizable models with more than a hundred printed fantasies for the inside eco-friendly leather bags.
The transparent PVC is a stylistic choice which make it easy to reinvent the Bi-Bag by changing the inside bag with a simple click to always have the perfect accessory for any occasion and any time of the day! The Bi-Bags are high-quality products characterized by an attention to details that only the Made in Italy can offer.
Bi-Joux, the jewelry brand was also inspired by the same concept: the jewels, like the bags, change and reinvent themselves with a simple click: rings, bracelets, necklaces and earrings can be personalized for thanks to the clip buttons available in many different colours, shapes and materials to shine in any occasion!
The realization of the new website also originated from the same guidelines. It clearly underlines the intention of the brand to be more recognizable and engaging.
Colours, shapes and customizations inspire the new Bi-Bag e-commerce website that in its new, more modern graphic design gives a more emotional navigation through the use of large slides and constant references to the brand's mood. The new menu is more intuitive and easy to access with a large e-shop dedicated area where with a few clicks you can have an overview of the products and buy the Bi-Bag or Bi-Joux perfect for you!
At this point you just have to visit the new Online Shop and become a Bi-Bag addicted! Follow us also on Facebook, Instagram, Pinterest and Google Plus. Don't miss any update!